Augmented Reality- An introduction
We know about the popularity of integrating the advanced visualization technologies of Virtual Reality and Augmented Reality into our design ecosystem today. For a long time, developing a three-dimensional physical model in Augmented Reality (AR) has been considered a vital aspect of the design process. Although Augmented Reality cannot construct fake environments, it uses current environments and incorporates features on top. In the same way, Virtual Reality and Augmented Reality have found applications in various sectors.
Augmented Reality is additive in that it superimposes digital features on top of the physical environment. Many classic methods, like paper and video prototyping, understanding current mental models, and so on, will be valuable to augmented reality software and application designers. We often see the AR models of the highlighted components on iOS smartphones. Augmented Reality is opening up new avenues for delivering digital 3D models and information. We use the 3-Dimensional model technique in AR. Similarly, AR can do model design virtually, minimizing the challenges related to the distribution of real-world scenarios.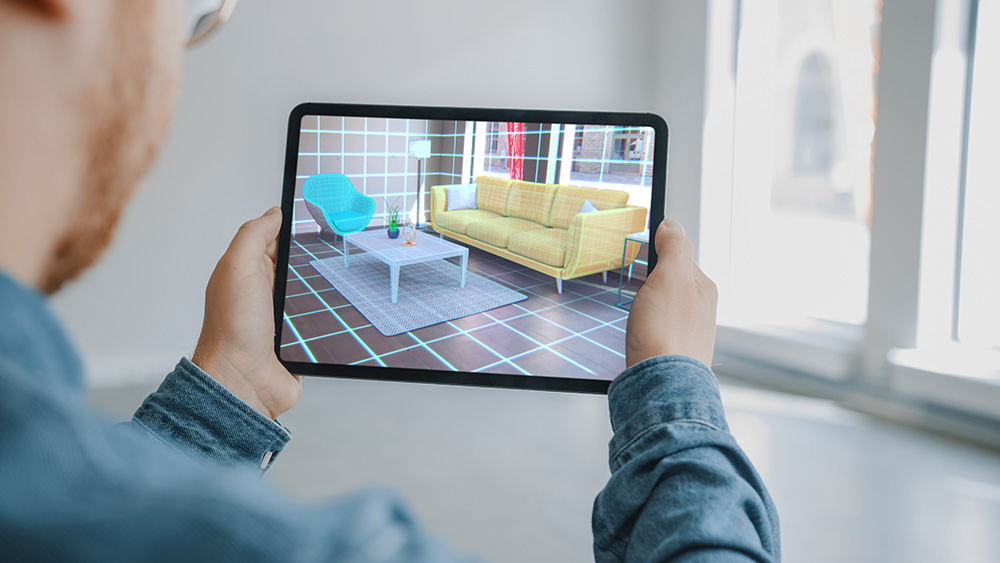 The inherent challenges associated with the distribution of physical models. Additionally, AR makes sharing feedback with all participants engaged in the product design process more manageable. According to experts, incorporating AR provides a realistic alternative in a statistic-based modeling setting. In the initial phase of the designing process, the designer may desire a rapid product design for extensive study and insights beforehand.
In most cases, the quality of the model is not essential; it is only to gain a "feel" of the model's proportions rather than accurately representing them. An augmented reality system creates a composite image by combining a virtual model or scene with the actual, real-world environment in which the user is present. The visualization approach may be applied in the medical field to make it feasible to employ augmented Reality to make surgery more comfortable. Augmented Reality allows GPS devices to navigate from point A to B. It is possible to use Augmented Reality in various applications in the sightseeing and tourist sectors. Because of these augmented reality features, computer gaming has gotten more amazing. You can build an AR app using an app development platform like Builder.ai.
Apps that use Augmented Reality
The application will be called an AR application. It is software that incorporates digital visual material (in some cases, audio and other forms of content) into the physical-world surroundings. You can use AR software in various sectors. AR finds its application in gaming and entertainment too.
AR gaming software stands as the highly ubiquitous augmented reality application, especially with the widespread success of the Pokémon GO smartphone game.
Developers create Virtual Reality applications in 3-dimensional software. It enables them to link the digital video or mobile software with an AR "marker". Once the Augmented Reality application receives digitalized animation or related media, the app plug-in starts. The application runs the code and overlays relevant information on top of the data. AR applications often come with GPS (Global Positioning System) features. This feature locates the person on the map and identifies its exact coordinates.
Augmented reality technology has swept the corporate world at such a breakneck pace that it is impossible to summarize it in a few trends. Machine vision and related technological inventions are all possible components of sophisticated augmented reality systems used by the military for training. The most significant use of augmented reality technology is for e-commerce websites. Build AR apps using Builder.ai, a no-code software development platform. Launch them on the Play Store or Apple Store.
To conclude:
Augmented reality applications are becoming more popular by the day. Undoubtedly, Augmented Reality has revolutionized the global market and changed industry trends. With this technology, you gain a competitive edge over others since the market dynamics have changed from physical to virtual. To build an AR app, one must be familiar with a reliable development platform. Builder.ai is an excellent example of such a platform. It is a no-code platform that allows anybody with no prior coding or programming experience to create applications quickly and easily.